RB JUBILEE 2009 - 2019
B A N D   L O G  B O O K 
2009 
The Rosinenbomber started with a German-American friendship:  Brad Irvin (Vocals, Bass), born in Los Angeles and then GI in Zweibrücken/Germany, met  Karsten Wolff (Vocals, Keyboards, Guitar) in his hometown Münster/Westphalia in summer 2008. On New Year's Day 20o9 Norbert Fritzsch (Drums, Vocals) joined. That was the day the band really got started, playing 60s flower power songs in a dark and damp bunker at "Alter Güterbahnhof" in Münster. The three gave themselves fantasy names like "General Irvin", "Sgt. K." and "Inspektor Fritzsch". The name "Rosinenbomber" (BE: "Candy Bomber", AE: "Jelly Bomber") was chosen because it refers to the peaceful use of former war planes (mainly that legendary DC3) in times of the "Cold War" to perform the huge "Berlin Airlift" ("Berliner Luftbrücke") 1948/49.  The Rosinenbomber's "bombs" are beautiful songs and peaceful messages in an authentic 60s style. 
Hansi Meier ("Der Meier", Vocals) joined in October 2009 as a singer and performer. He had a high reputation as the first progressive DJ in Münster, working at the famous "Lila Eule" from 1969 - 1972, and he could entertain very well with lots of stories and songs from the Sixties.  "Papa, you don't have to become a rock-star. You are one already!" said his daughter Nina. However, having been a vocal street artist, for Hansi it was a kind of "teenage dream come true" to be the singer in a rock band now, and he loved the early Sixties (in a double meaning). Our Rolling Stones repertoire grew immensely the next couple of years! 
2010
Martin Hähn ("Herr Hähn") joined to back-up Brad on bass-guitar at the times he was in the USA. At some occasions they actually played together on stage. Both initially being guitar-players, they found it easy  to switch between the two instruments and had fun in doing so. 
Martin Gorenz ("Gebrüder Engel", "Peter Janssen Band") joined with an exceptional lead-guitar! We were his first real "Rock'n Roll Band", as he often remarked. He liked the atmosphere at Altes Kurhaus Wolbeck, and we also had a number of great unplugged sessions in the park. 
2011 
Jürgen Hintz joined on drums and we left the suburbs to play Münster-City. The concert at the former "Wienerwald" Restaurant near the central station was fame: This was where Hansi Meier had had his first job in the early Sixties. Next door was the "Rex" Cinema,  "downtown" Münster. Actually we were the last band to play in the building, which was knocked down a few weeks later to be replaced by a "tower" with students' apartments.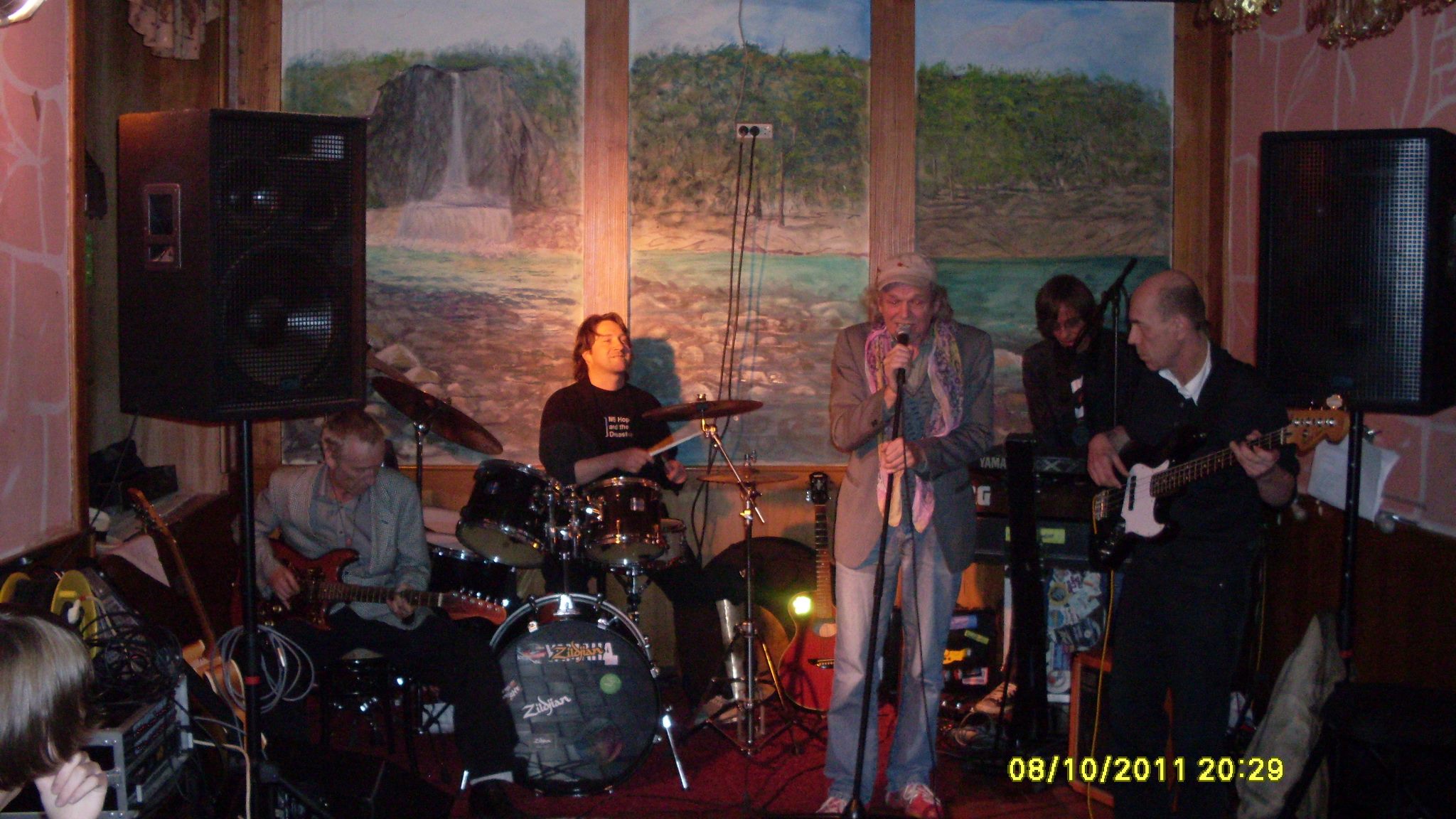 2012
Friedrich Brocke took over on drums! We recorded our first Maxi-CD "We can fly" (the green one) feat. Martin Gorenz at Pauck-Tonstudio (Herford). Unfortunately those were to be the last recordings of the late Martin Gorenz. You can find some of the tracks featured on our YouTube Channel in memory of a good friend and unique guitar player!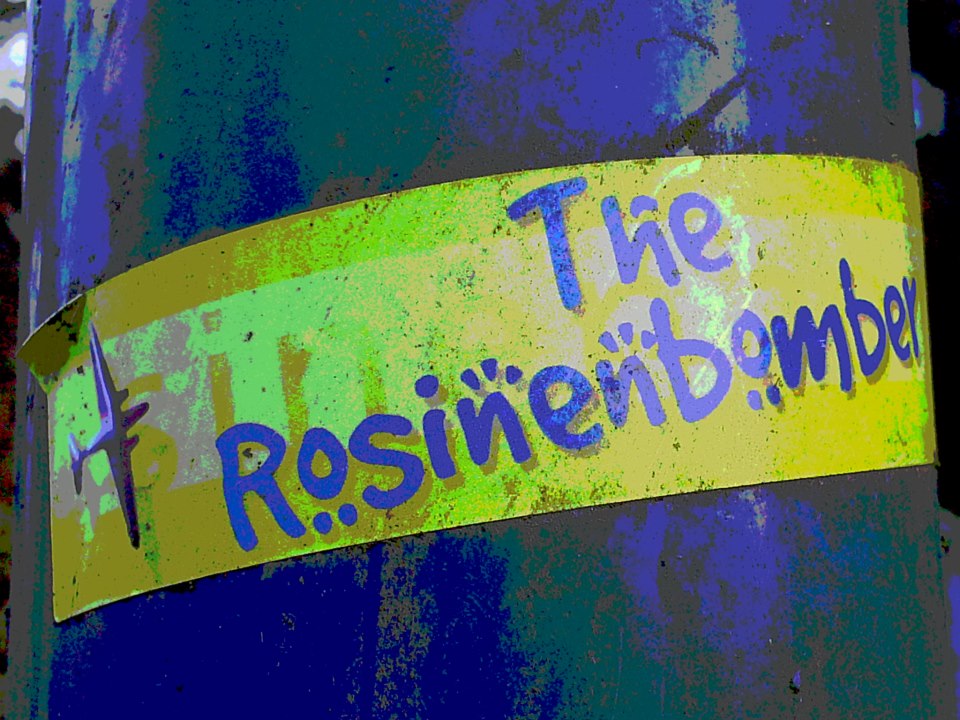 Brad Irvin (Vocals, Bass) came over from the US that summer and we played as a quartet again, very similar to how we had started. 
2013 - 14 
We got support by Roman Holy (Lead-Guitar, Vocals), who stepped into the space Martin Gorenz had left empty. Martin Hähn (Bass) came back making the group a quintet again. 
Rosinenbomber Publishing was established at Kurhaus Wolbeck, and we went to MUNDart Tonstudio (Münster) to record the Maxi-CD "The sky is no limit" with Alfred Nienstedt. We did five tracks, two featuring Hansi Meier and two with Karsten Wolff. Number five, "Little Wing" with Roman Holy on lead-guitar and vocals (!) was published as the "Bonus Track" of the Maxi-CD "Mad World / Manhattan-Berlin" 2016. "The Sky Is No Limit" were to become the last recordings of the late Hansi Meier (1948 - 2018).  Gregor Lutz ("City Life")  came in on drums summer 2014.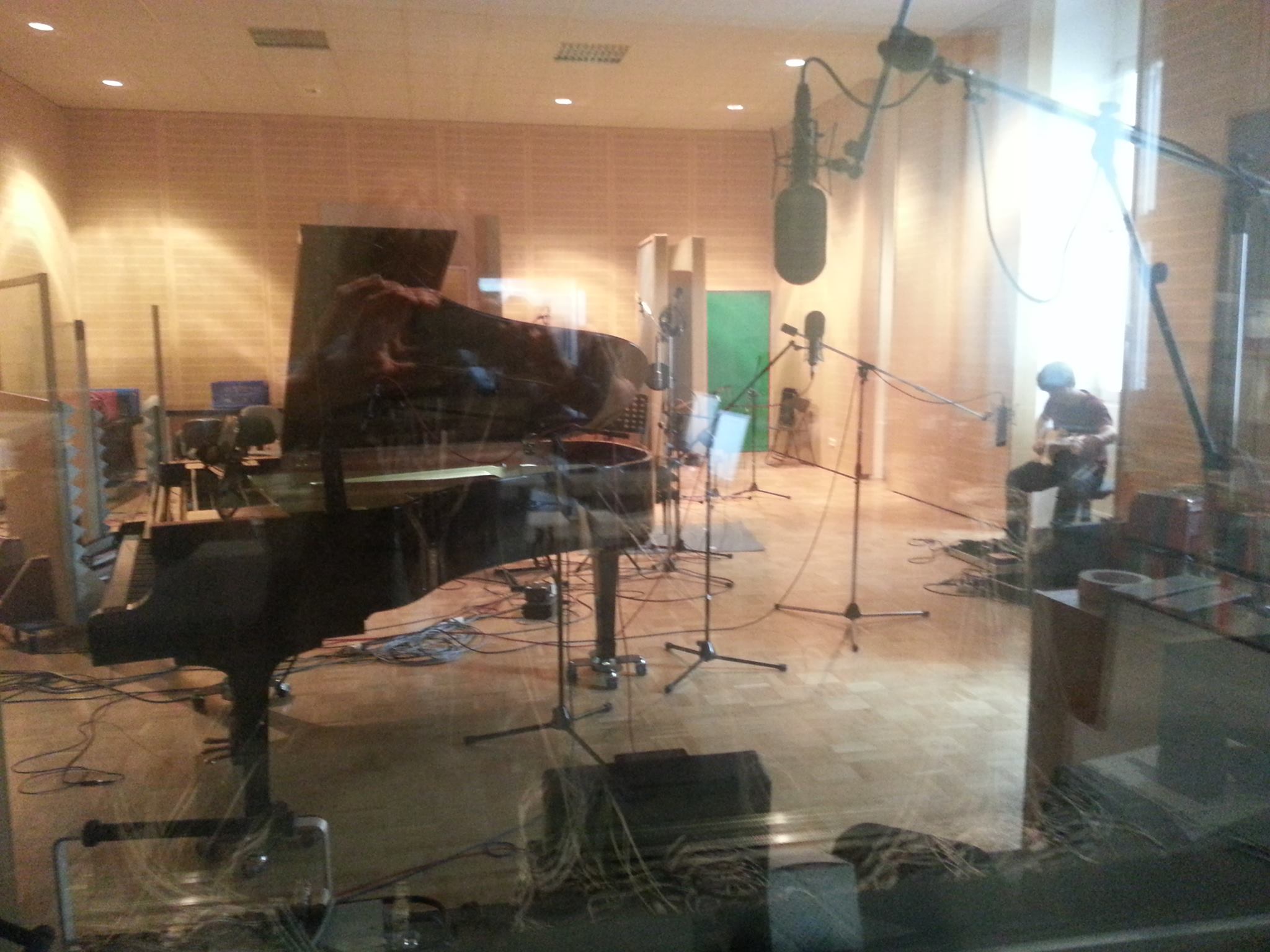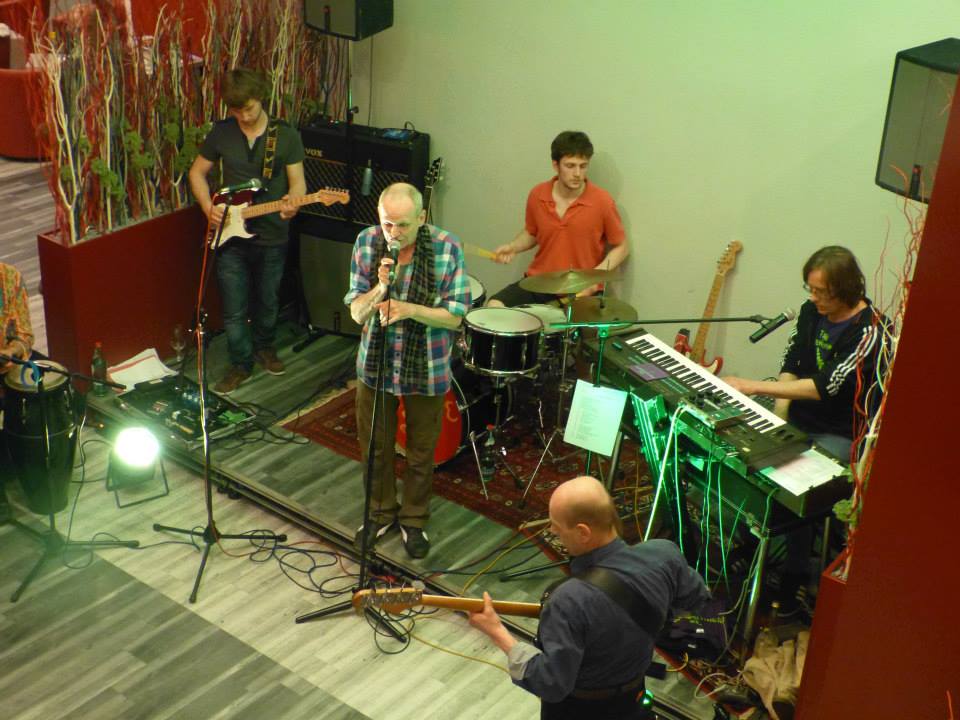 2015 
Hansi Meier retired from band life and from stage, and Traudl Hörst (Vocals) came in and contributed that wonderful "First we take Manhattan". Karsten Wolff started to perform with  Siggi Mertens' ("Marylin", Münster) backing band "Siggi Proudly Presents".  Dariusz Löwe joined the group as a Road Manager and also helped with the production of "Mad World Movie" (2017). You can see his daughter Emma and his son Erik along with Sandra in the movie at the "birthday" and "toy planes" sequences! 
2016
Maxi-CD "Mad World"  with feat. guest players  Siggi Mertens (Lead-Guitar) LeA Berger (Bass),  Inez Sannan & Katja Zeyer (Backing Vocals).  Produced at Fox Music Studios (Telgte, Germany) with Wolfgang Brammertz (engineer). At that time the band became a project with ten people involved in the studio. Also it marked the beginning of the cooperation with Sandra & Anna Ajtner. The title photo for the first time featured those famous goggles, which were to become a second trade mark of the Rosinenbomber (beside the plane itself, of course).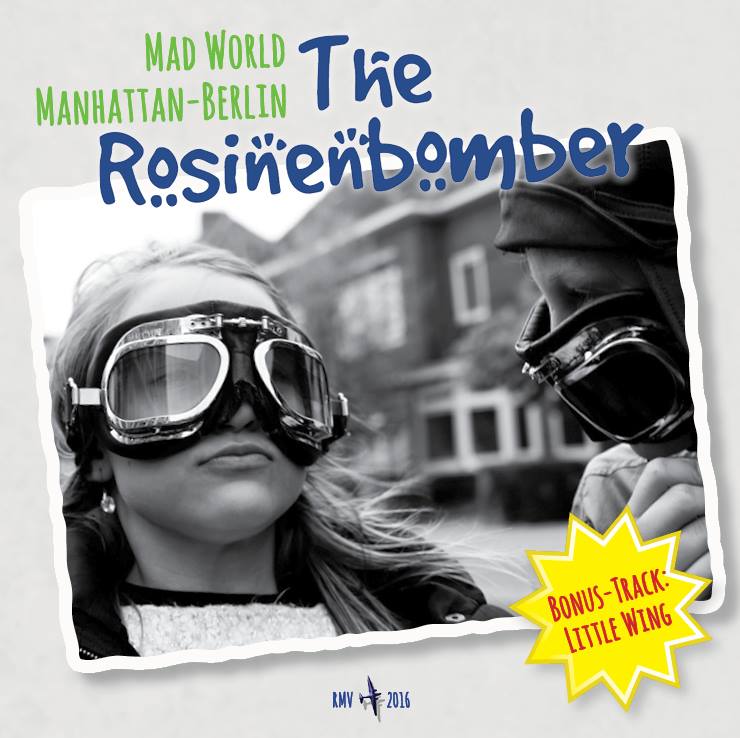 2017
January - September: Making of "Mad World Movie" in Germany and the Netherlands starring Sandra Ajtner. With her mother Anna Ajtner  (movie director) and Karsten Wolff (producer). Post-Production made with Robert Biermann (Hamm) September - Oktober. 
April: At Can-Studio (Rock'n Popmuseum, Gronau, Germany)  with Andreas Grotenhoff  (sound engineer). The sessions in the legendary studio was actually the final one there. In summer 2017 the studio was taken down. Today there are essential parts of the studio still on display in the museum, but out of order.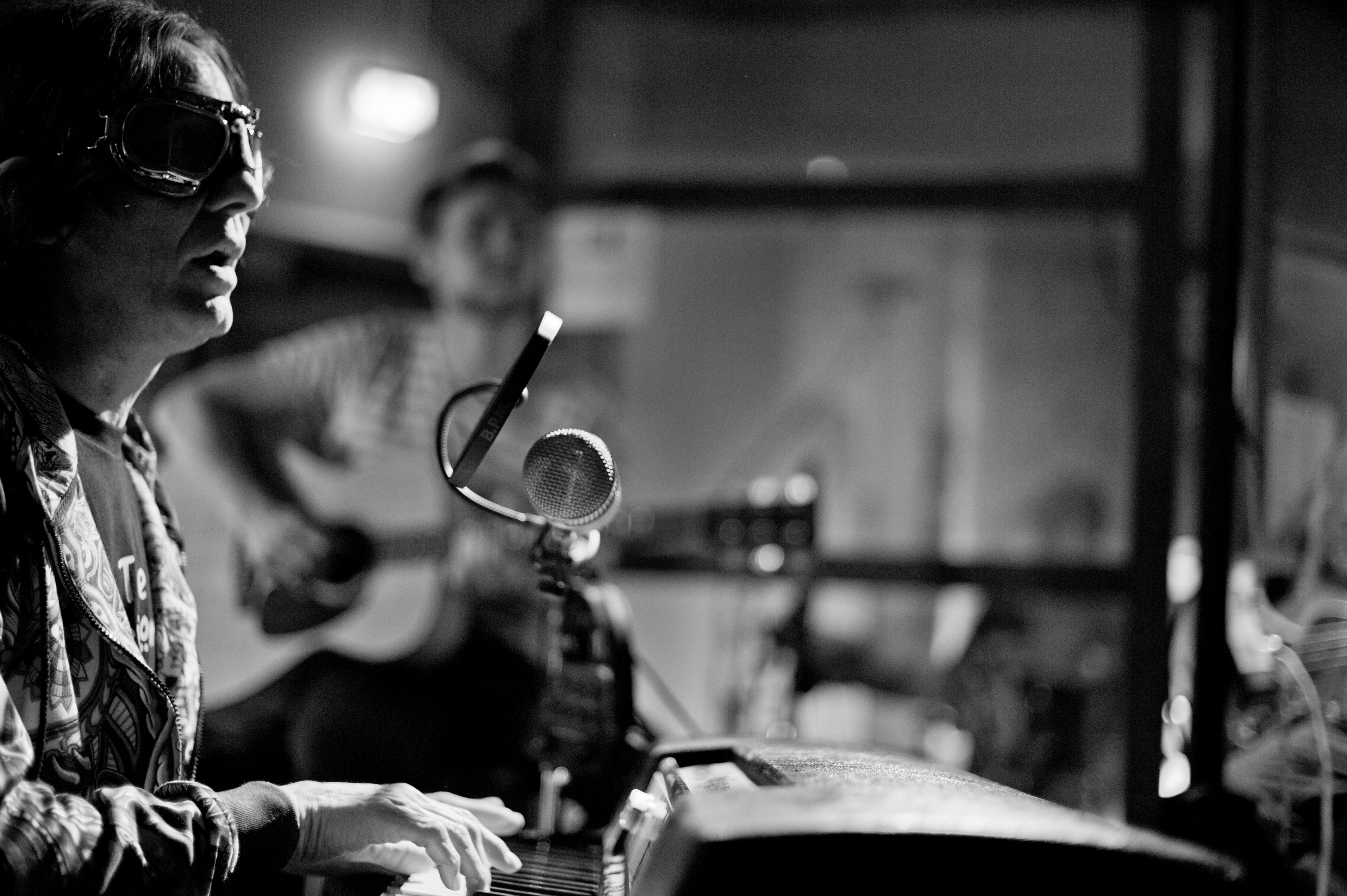 October: Maxi-CD "Mad World Movies feat. Sandra Ajtner" 
Re-make of "Mad World" featuring Karsten Wolff with the CD-debut of Sandra Ajtner (vocals) and photos from Anna Ajtner, produced at Fox Music Studios (Telgte, Germany) with Wolfgang Brammertz (engineer). 
2018  
January:  DVD  Mad World Movie  and the PICTURE BOOK  signed and published with Sandra & Anna Ajtner at the Polish Library in Amsterdam. 
April:   #Rosinenbomber  established as a brand for quality casual clothing.   
June - August: Production "I'll show you/Consideration" with Candy alias Sandra Ajtner with  Wolfgang Brammertz and Karsten Wolff at Fox Music Studios (Germany). We continued the good work we had already done there for "Mad World" in 2016/17 with Wolfgang playing Fender bass & e-guitar, also creating the wonderful beats, and Karsten playing Hammond Organ and DX7 synthesizer. The vocal recording and mix at Power Sound Studio Amsterdam in August and October.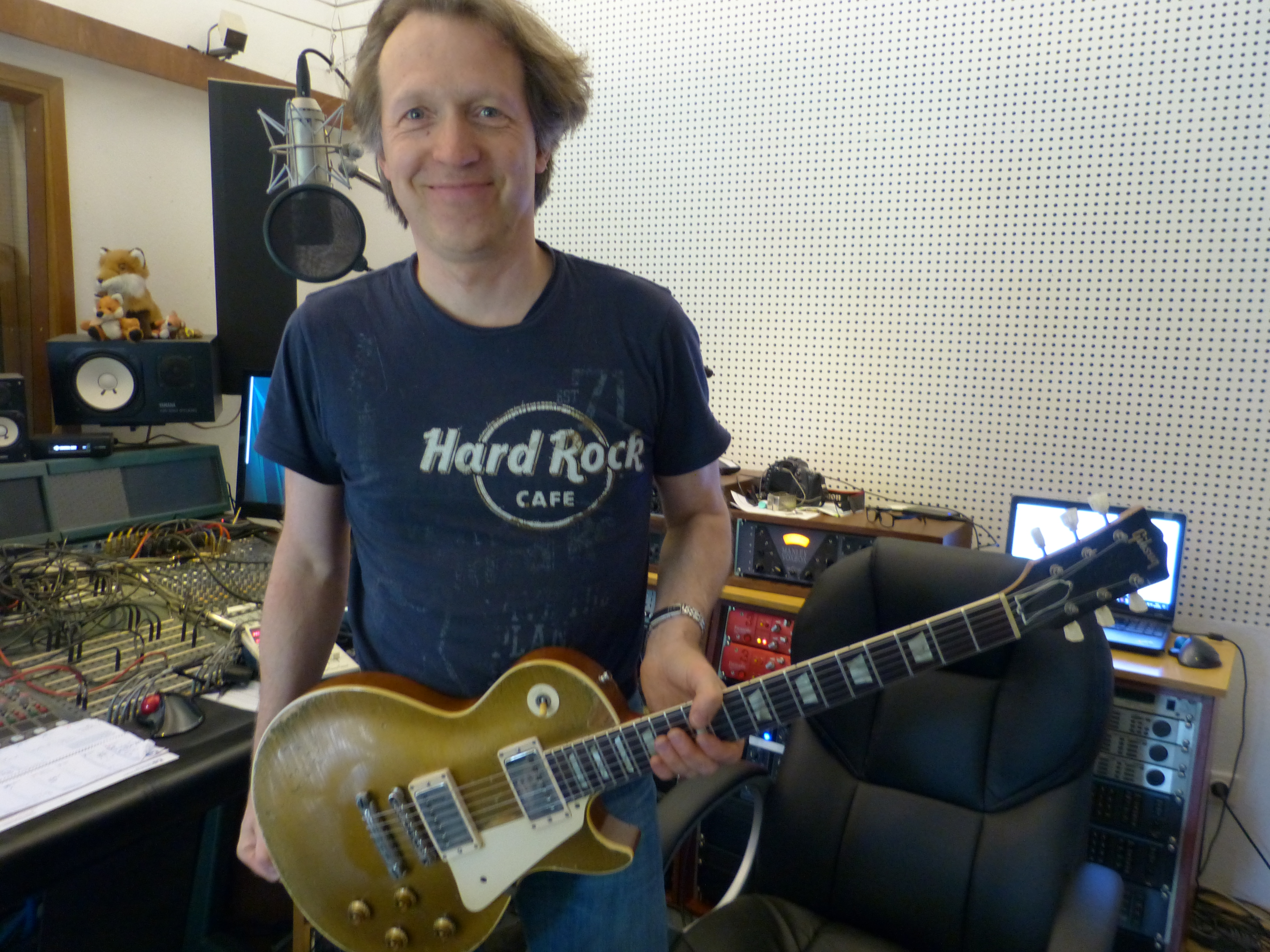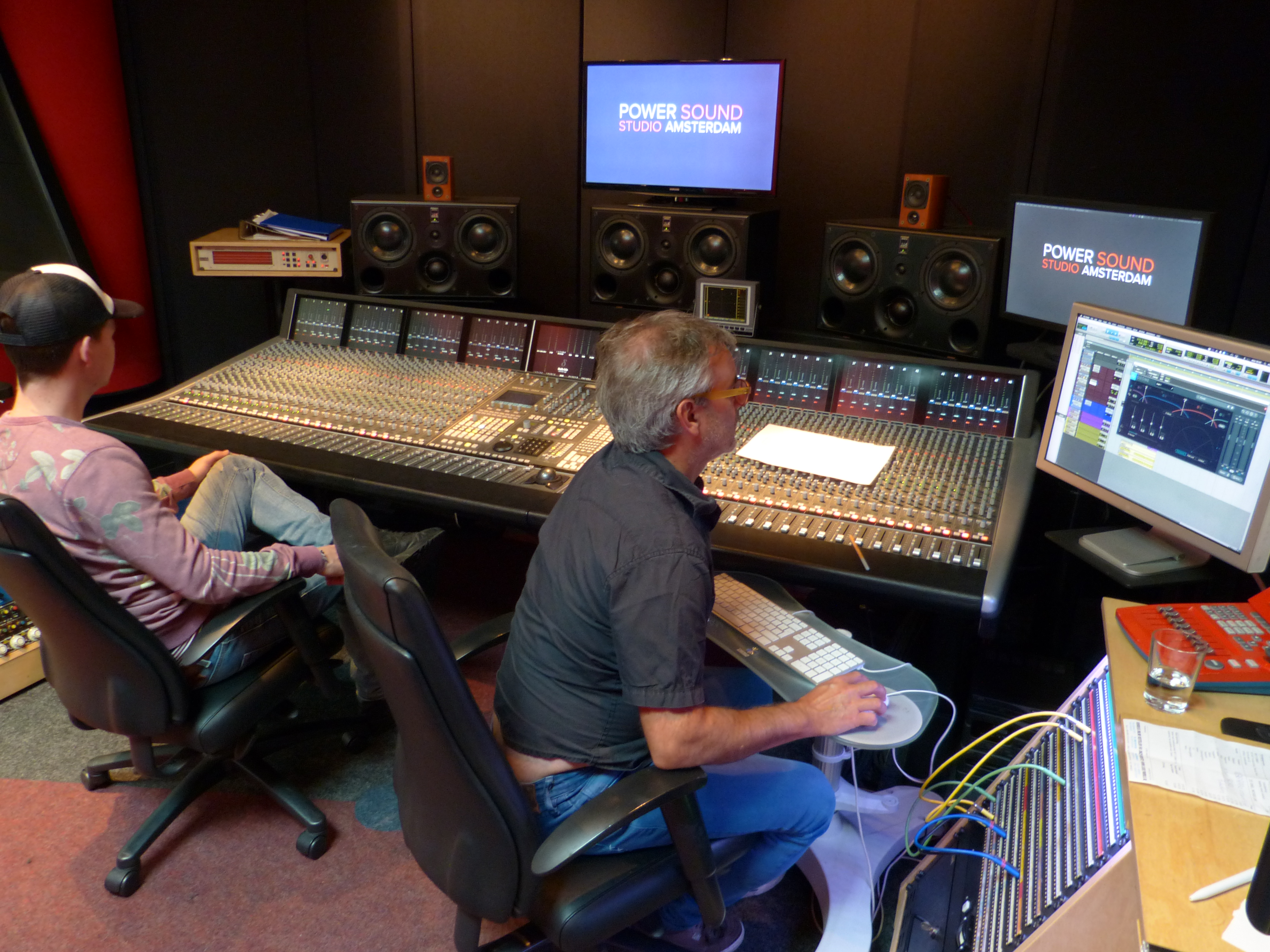 2019
January: RB Webshop goes online with Casual Clothing, music, pictures, souvenirs and more! 
February: Celebrating the release of Sandra Ajtner's first solo single "I'll show you / Consideration" in the Netherlands February 14th! Pre-Production by The Rosinenbomber, vocals and mix in Amsterdam! The CD-Single comes in a beautiful 4-pages paper edition with photos and cover from Sandra's mother Anna Ajtner.  It is available at our WebShop and also as a  download at iTunes. There is a limited edition for sale,  100 CD's only!! https://shop.the-rosinenbomber.de/produkt/ill-show-you-single-cd-2018/  
March-April: Preparing  for the Jubilee project with Peter (Backi) Backhausen, Georg Bicher & Karsten Wolff. 
June: The Rosinenbomber Jubilee and 70 years of the historical Berlin Airlift 1948-49! Our foundation member Brad Irvin came over from the USA on D-day June 6th to celebrate and play LIVE with us: "On our way back home!"